Procedure on the European Parliament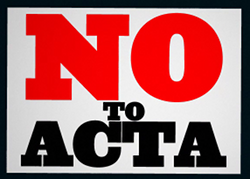 The International Trade (INTA) Committee of the European Parliament is the main committee working on ACTA.
The Legal Affairs (JURI), Development (DEVE), Civil Liberties (LIBE) and the Industry (ITRE) committees will first vote on their opinions after holding "exchange of views" on draft reports in the coming weeks.
Opinions will then be sent to INTA to influence its final report, which will recommend the EU Parliament as a whole to reject or accept ACTA.
The final, plenary vote by the EU Parliament on ACTA should be held no sooner than June.
Read the Counter-arguments vs ACTA to help you debunk the EU Commission's lies about ACTA, which are also relayed by pro-ACTA members of the EU Parliament.
Get the fact-sheet in PDF.